Fi-Shock® White 1/2 Inch Polytape - 656 ft
Out of stock
UPC: #017051412409
SCC: #30017051412400
Highly visible to horses and other animals
1/2 inch Polytape
656 ft (200m) of tape on a spool; contains 5 strands of electrical conductors
Breaking load of 150 lb
Easier to install, repair and splice than regular wiring
Fi-Shock® 656 ft, ½ Inch, Polytape
Horses and other animals will be able to see this ½ inch highly visible polytape more easily than regular electric fence wire.
Fi-Shock® 656 ft, ½ Inch, Polytape has 656 feet (200 meters) of tape on a spool and 5 strands of electrical conductors. It has a breaking load of 150 lb. This polytape is easier to install, repair and splice than regular wiring, and it will not rust.
Note: This is not designed to function under extreme tension and must be used in conjunction with a permanent fence.
Wire Height Guide by Animal
The height and spacing of the wires will vary with the animal you are containing. Some typical wire spacing options are shown below. Position one electrified wire at shoulder height of the animals being contained; this will cause the animals to hit the fence with their nose. Once they receive the shock, they will learn to stay away from the fence.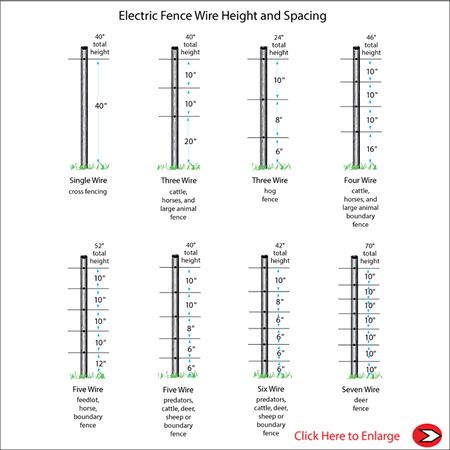 Determine Your Perimeter Length
This chart offers assistance in determining perimeter length of your electric fence. These distances are based on square-shaped perimeters. Acreage is not limited to one shape, but can be round, oval, square, rectangular, or irregular as long as the square footage is correct.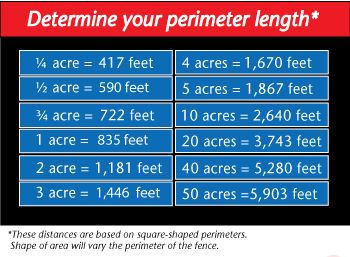 Fi-Shock® Means Leadership in Electric Fence Systems for Animal Containment and Control. Fi-Shock® provides safe, secure, superior quality electric fence products for all your fencing needs.
Fi-Shock® 656 Ft, 1/2 Inch Polytape
Model #
PT656WH-FS
Quantity
656 Feet
We found other products you might like!