Out of stock
UPC: #017051412263
SCC: #30017051412264
Helps to make a superior connection of ground wire to ground rod
Heavy duty construction
1 clamp per package
Fi-Shock® Ground Rod Clamp
Need a top-notch connection of ground wire to ground rod? We have the product for you!
The Fi-Shock® Ground Rod Clamp helps to make a superior connection of ground wire to ground rod. It's heavy duty construction ensures long usage. Packed 1 clamp per bag.
One Wire System
The one wire system means that there are only "hot" or charged wires running the perimeter of the fence. One wire systems are often used for smaller areas—areas with only one or two strands of wire. Often a hot strain of wire is run along the top of a barbed or woven wire fence to keep the livestock from reaching over the fence.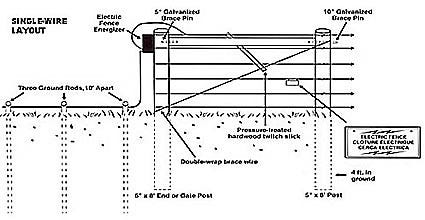 Two Wire Systems
A two wire system is a great way to help the animal complete the circuit by touching the "hot" and a ground wire at the same time. The two strand system is used when there are multiple (3 or more) strands of wire and the wires alternate between charged and grounded wire. The idea is that the wire is alternated between "hot" and ground wire on the fence: one "hot," the next ground, the next "hot," etc.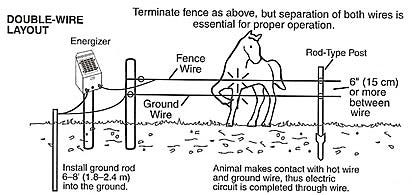 This is most often used for large areas and has the benefit of increasing the chances of the animal touching a charge and a ground and thus completing the circuit. Additionally, the two wire system is ideal for areas with sandy or rocky soil. This system is also well-suited for animals with long hair or wool.
For these electric fence systems, the grounded wires will be connected directly to the grounding rod(s) or the grounding terminal on the fence charger, and the charged wires will connect directly to the fence terminal.

WARNING: This product can expose you to chemicals including lead and lead compounds, which are known to the State of California to cause birth defects or other reproductive harm. For more information go to www.P65Warnings.ca.govwww.P65Warnings.ca.gov.
Fi-Shock® Ground Rod Clamp
Model #
GRC-FS