Fi-Shock® 15 Mile Battery Operated Low Impedance Fence Charger
Out of stock
UPC: #017051412171
SCC: #30017051412172
15 mile range
Controls most types of animals - horses, pigs, cows and pets
Ideal for remote locations or areas without access to AC power
12 volt battery with pulsed DC output (1-second intervals)
Indicator light showing fence controller is working
Fi-Shock® DC 15 Mile Electric Fence Charger
Our Fi-Shock® DC 15 Mile Electric Fence Charger is ideal for controlling horses, cattle, and other small livestock. It is also perfect for protecting your garden from pets and nuisance animals. This DC powered charger works with all types of electric fence systems, even in heavily weeded locations.
With a 15 mile range, it maintains maximum energy (joules) on the fence: 1 joule output. This is a 12 Volt battery operation. It has a voltage-control switch for shorter or clean fences. The digital timing feature allows for safe, effective, high voltage shock delivery.
The Fi-Shock® 15 Mile DC Charger is made in the USA and comes with a 1 year limited warranty that includes damage caused by lightning.
15 Mile DC Charger At A Glance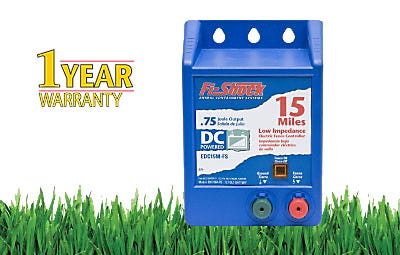 Powers up to a 15 mile range
Controls small livestock, pets, and nuisance animals
Works in heavy weed conditions
1 joule output
Output Voltage - 9.7 KV
12V battery operation
25% longer battery life over other low-impedance models
Digital timing
Indicator light showing fence charger is working
Comes with a 1-yr warranty that includes damage caused by lightning
Animals Controlled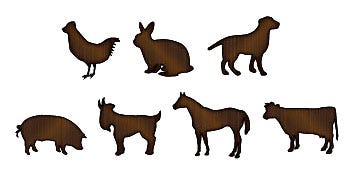 DC Charger Installation Guide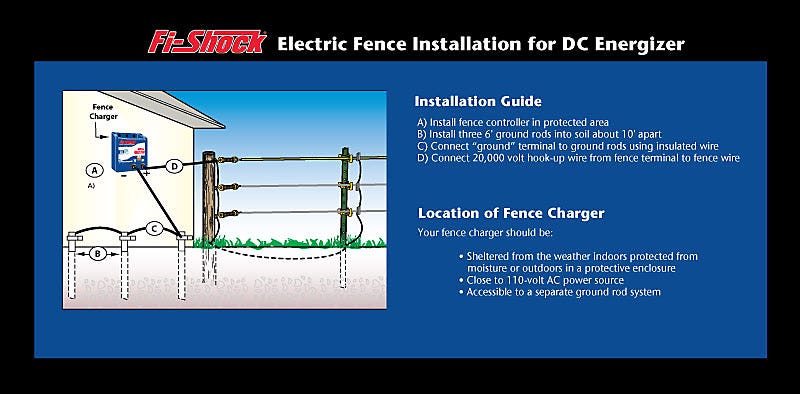 WARNING: This product can expose you to chemicals including lead and lead compounds, which are known to the State of California to cause birth defects or other reproductive harm. For more information go to www.P65Warnings.ca.govwww.P65Warnings.ca.gov.
We found other products you might like!