Fi-Shock® 10 Mile Solar Low Impedance Charger

Out of stock
UPC: #017051412195
SCC: #00017051412195
10 mile range
Moderate, dry weed conditions
0.33 stored joules; 0.15 joule output; output voltage no load is 7500 volts
Reliable solar power operates up to two weeks without sunlight
Fast installation on T-posts, round wood posts, Y-posts, buildings and flat surfaces with unique, integrated mount
Fi-Shock® 10 Mile Solar-Powered Charger
Use the power of the sun's energy for your fencing with the Fi-Shock® 10 Mile Solar Fence Controller. Used to control livestock, and pets. This energizer delivers the containment power you need without worrying about dead batteries or electrical outlet connections while powering up to 10 miles of fence. Made with low impedance technology for less battery drain and to help resist shorts when the fence is in contact with weeds.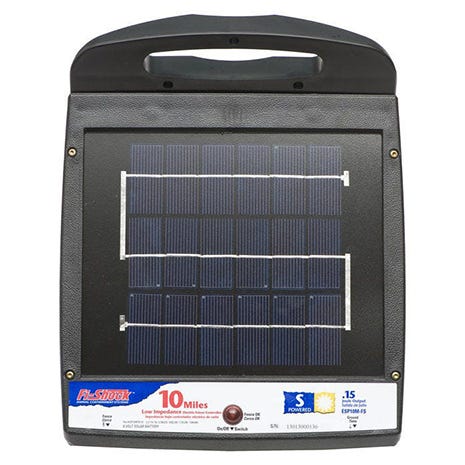 Charger Distance Ratings
With this solar electric fence charger from Fi-Shock®, you can power up to 10 miles of steel fence wire. The amount of fence line that your charger can operate depends on several factors, including the type of fence line you're choosing. Steel wire, for example, carries power further along the fence line than poly fencing. Vegetation and weed conditions or fallen tree branches may limit the distance electricity can be carried along a fence line. Make sure to regularly walk your fence line to check for intrusions on the line and check fence condition.
Fi-Shock® 10 Mile Solar Charger Distance Ratings
No Weeds
Light Weeds
Heavy Weeds
Steel Wire
10 miles
5 miles
-
Polywire
5 miles
2.5 miles
-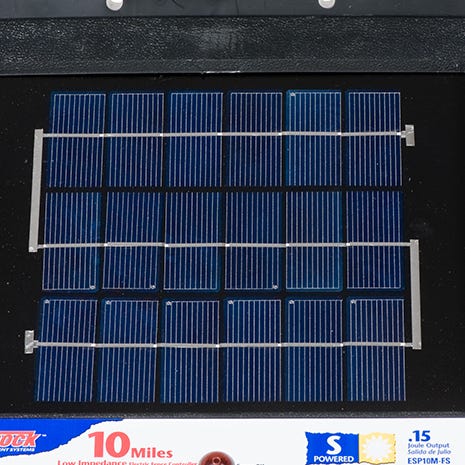 How to Use
Upon receiving your solar charger, place the unit in full sunlight for 3 days in the OFF position. This will charge the internal rechargeable battery, rendering it ready for use! Next, connect the grounding wire and fence line wire to the terminals of the charger. Turn the Fi-Shock® 10 Mile Solar Fence Charger into the ON position, and the fence ok light will light up and blink in one-second intervals. This shows that the solar charger is operating properly.
Easy-Grip Knobs
Connecting your fence is simple with the easy-grip knobs on your Fi-Shock® 10 Mile Solar Fence Charger. Attach the fence's ground wire to the post with the green knob and the live hot wire to the red knob. Remember to turn your charger off before making any connecting wire adjustments and then turn it back on so it continues to gather solar energy. Knobs are designed to be under the charger to reduce exposure to the elements.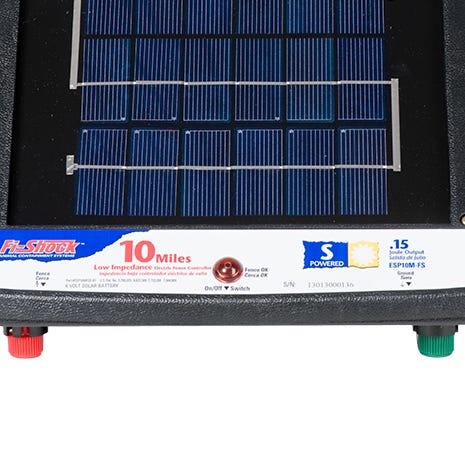 Solar Charger Installation Guide
To properly install your Fi-Shock® electric fence charger, charge it first by exposing it to the sun for 72 hours. After that, mount it and attach connections as directed. Your charger includes several features to make installation easy, including: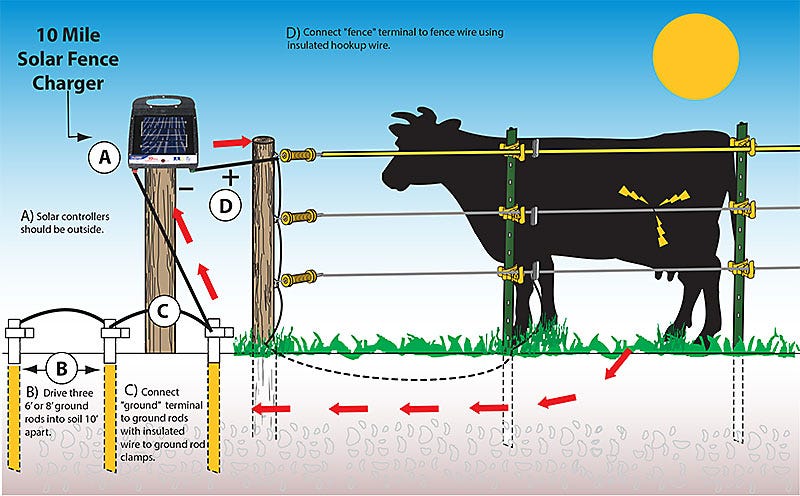 Your charger includes a number of features to make installation easy, including:
No outlets necessary – Place anywhere on your property.
Easy-grip terminal knobs, color-coded for easy wiring.
Install on t-posts or y-posts with built-in bracket.
Optionally, install through hanging holes built-in the heavy-duty case.
Power indicator light to monitor charger status
Note: that every fence system needs a charger along with posts, insulators, and fence wire or poly fencing to be fully functional.
Fi-Shock® Solar-Powered 10 Mile Charger Product Details
Do you want to know more helpful details about the Fi-Shock® Solar-Powered, 10 Mile Charger? Take a closer look at the in-depth specifications for this product.
Fi-Shock® 10 Mile Solar Electric Fence Charger
Model No.
ESP10M-FS
Output Energy
0.15 joules
Output Voltage
9.5 KV +/-20% open circuit voltage
Power Source
Solar Panel
Fence Line Types
High tensile steel, aluminum wire, polywire, polyrope, polytape
Tools & Helpful Accessories for Your Charger
Your electric fence charger isn't the only piece of your fence system. To have a fully functioning fence, you need a charger, posts, insulators, and wire or poly line. You'll also need the right tools and accessories to get your fence into operation. Check out these items.

The type of insulator you need depends on your fence post and fence line type. Check out our huge selection.

Even on short fence lines, regular testing is a must. Check out these easy-to-use fence testers.

With poly fencing, you have flexibility with your fencing. Poly fencing is great for rotational grazing.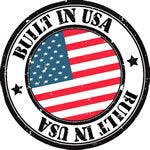 Proudly Built in the USA
This Fi-Shock® fence charger is assembled and packaged at our facility in Tennessee. Fi-Shock® is honored to employ the American workers who construct, test and package our products.

WARNING: This product can expose you to chemicals including lead and lead compounds, which are known to the State of California to cause birth defects or other reproductive harm. For more information go to www.P65Warnings.ca.govwww.P65Warnings.ca.gov.
Fi-Shock® Solar-Powered 10 Mile Charger
Model #
ESP10M-FS
Power Source
Solar charged 6 Volt battery
Fence Line Types
Steel, aluminum wire, polywire, polyrope, polytape
Distance Rating
Up to 10 miles under optimal conditions, weeds and poly products will reduce power on fence line
Recommended for Controlling
Cattle, goats, horses, pigs
Warranty
1-Year Limited Warranty from date of purchase, includes damage from lightning