Fi-Shock® 10 Acre AC Charger
Out of stock
UPC: #017051412119
SCC: #30017051412110
10 acre range in ideal conditions
High-power, low-cost
Input Voltage: 110-120 VAC, 60 Hz,.027 A, 10 W; Output Voltage: 1.2 KV +/- 20% open circuit voltage
Electric powered fence charger can be used for electric fence containment of pigs, cattle, horses, deer, cows, sheep and goats
Continuous AC current output charger
Fi-Shock® AC 10-Acre Electric Fence Charger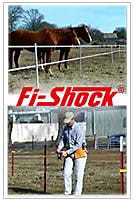 This charger can be used for electric fence containment of pigs, chickens, rabbits and pets.
Our Fi-Shock® AC 10-Acre Electric Fence Charger, a high-power electric fence charger, features a continuous AC current output and weather resistant cabinet to protect the circuitry of the charger (however, the unit is not completely weather proof, there are exposed connectors that should not become wet due to the risk of potentially shorting out the unit). The range for this low-cost charger is 10 acres. For Use 20-9 Gauge steel/aluminum wire only. Do not use with polytape, polywire or polyrope.
Voltage:
Input Voltage: 110-120 VAC, 60 Hz, .027 A, 10 W
Output Voltage: 1.2 KV +/- 20% open circuit voltage
This light duty electric fence charger is backed by a one year limited warranty. Replaces model # SS-525CS and SS-505CS
Fi-Shock® Means Leadership in Electric Fence Systems for Animal Containment and Control. Fi-Shock® provides safe, secure, superior quality electric fence products for all your fencing needs.
We found other products you might like!