How the Weather Effects Rodents

Thanks to Mother Nature, conditions this summer were favorable for an explosion in rodent populations throughout much of the country. These thriving rodents are predicted to start moving indoors soon, in search of warm, dry shelter with food.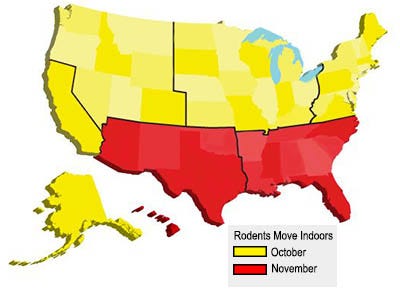 California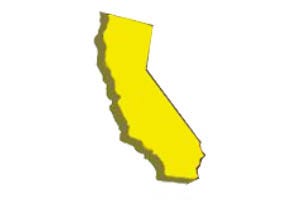 On the heels of a drought-stricken, heat weary summer, California is not expected to see many signs of relief this fall. High heat is predicted to continue through September with slightly cooler temperatures arriving in October. Though some rain is possible for the drought-parched state from October to November, it will hardly make up for the current deficit. As the drought holds, vegetation and water will remain in short supply, encouraging rodents to migrate indoors in search of food and water.
Southwest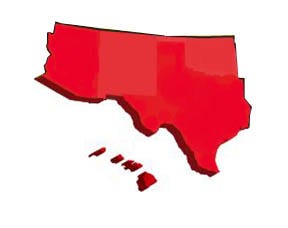 A prolonged period of drought conditions in the Four Corners region of the Southwest has fueled a tremendous number of wildfires in recent years. After another hot, dry summer, heavy rain is expected to settle in the region this fall with cooler than normal temperatures. By November temperatures are predicted to be well below normal across the Southwest, compliments of a strong El Nino pattern. This will lead to a wet and snowy season, increasing the chance of a large number of floods and mudslides in the region. As a result of these extreme weather conditions vegetation will become increasingly scarce, encouraging rodents to move indoors in search of food and shelter.
Northeast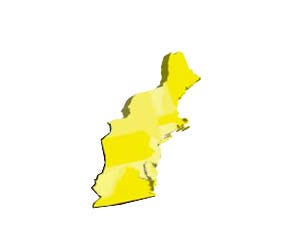 Rodent populations exploded this summer in the Northeast, thanks to consistently warm temperatures and periods of record-setting rainfall. These conditions fueled vegetation growth and caused rodents to thrive in the great outdoors. Meteorologists are predicting back and forth temperatures through mid-fall with blasts of winter-like air arriving earlier than usual. A strong El Nino could bring significant moisture to the area, bringing late fall snowfalls to cities such as New York City and Philadelphia. This weather dynamic is expected to lead to a very active rodent season as rodent populations that flourished during the hot, wet summer begin to seek shelter from the cold. Be prepared for their exodus from the outdoors to the indoors.
Midwest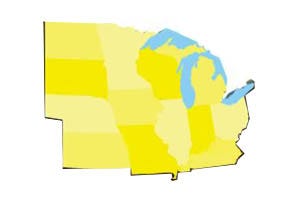 After one of the rainiest summers on record, the wet weather in the Midwest is expected to continue for much of the fall season. Meteorologists are predicting that warmer temps in the Pacific will hold the Polar jet stream further north than usual and keep the Midwest warmer than average in the coming months. Feeding off the tropical jet, heavy snow is still possible, with the best chance occurring in the southern Midwest. These weather conditions typically set the stage for large populations of rodents to seek shelter indoors to escape the elements outdoors.
Northwest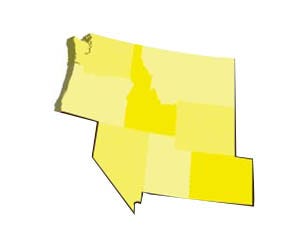 Following another hot, drought-parched summer, the Northwest is not on track to see any signs of relief this fall. The weather outlook calls for increased chance of above normal temperatures with below normal precipitation. These conditions are largely due to the strong El Nino advisory in effect in the region. This weather pattern will bring no relief to the wildfires raging throughout the Northwest and the fire danger will remain extremely high as we move from fall into winter. Thanks to the extreme weather conditions, vegetation and water will become increasingly scarce, encouraging rodents to move indoors in search of food and water.
Southeast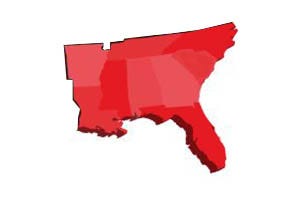 The Southeast has a good chance of getting above average rainfall this fall thanks to an active and more southern jet stream that is expected to occur. As winter approaches, severe weather will be a threat in Florida, while areas from Texas to Virginia will face heavy precipitation and the chance for flooding. Similar to 2014, temperatures across the region will trend warmer than average from the effects of El Nino. These weather conditions generally set the stage for large populations of rodents to move indoors in search of dry food and shelter.